Written by
Bjørn Børresen
on
How hard is it to spell "YouTube"?
I visited Alexa today and as usual I glanced at the "Movers & Shakers" section to see who's having a good or bad week.
To my big surprise the top mover (upwards) was something called "Universal Tube & Rollform Equipment Corporation". I was puzzled until I saw the domain name: utube.com .. haha. lol (yes, a real laughing out loud).
Here's a screenshot: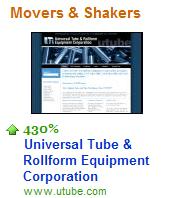 No way is this many people trying to reach someone who "offers wide selection of used, rebuilt, and new equipment for the tube, pipe, and coil processing industries" — these people are looking for youtube of course.
Check out the traffic spike around the Google / YouTube deal .. it's probably people who have heard it on the news or something, and don't know how to spell it.
Well, I thought it was interesting, anyway ;)